All of us at CJ Affiliate know we're super lucky to work in an industry that allows us to stay safe at home during this global pandemic—we're endlessly grateful to the essential workers and volunteers who are keeping the world running during this historic time. In the spirit of "Thank You Hour", we asked CJ employees across our global offices to recognize their friends and family members who are doing their part.
Cody Mathews, IT, University of Iowa Hospitals, Iowa City, IA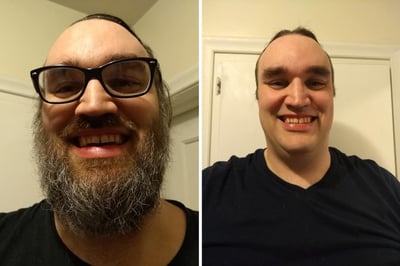 "My Corona Hero is my brother, Cody Mathews. He works IT at University of Iowa Hospitals. His work is vital to aid health care professionals as he services all the technology they use for surgeries, patient monitoring, patient care, etc. He even sacrificed his sweet beard that he loved so much in order to get fitted for a pressurized respirator to do his job. This is the first time he's been clean shaven in about ten years! Love you and all that you do, bro!"
- Samantha Leon, Client Development Director, Chicago, IL
---
Tina Cox, Hospital Staffing & Supply Management, East Midlands, UK
"My mother, Tina Cox works at the biggest hospital in the East Midlands region. She's responsible for staffing and supply management across two wards—both of which are nearly full of Covid-19 patients. She makes sure there are enough nurses on duty and enough PPE to go around, among other things."
- James Cox, Business Development Director, London, UK
---
Grace Saccoccio, CJ Client Services Rep by Day / Handmade Mask Sewist by Night, Westborough, MA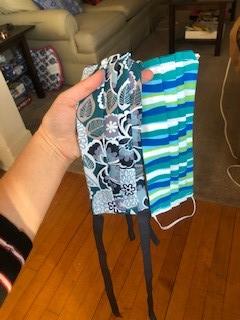 "Every day, Grace Saccoccio makes someone's day by helping them grow their affiliate business. As a member of CJ's Client Support team, she walks clients through the steps they need to take to succeed in affiliate. Not only does Grace do an outstanding job taking care of our clients, she's now applying her can-do spirit and passion for service to her community at large by making masks for those that need them. She started with her family and friends, and then moved on to her local coworkers. Next, she's planning on dropping off masks where they are needed most, whether that be the local hospital or homeless shelter. She's an incredible role model for the rest of us on how we can all do our part to combat the virus and help those in need. Thanks, Grace!"
- Lucile Vea, Sr. Global Engagement Manager, Santa Barbara, CA
---
Ellie Windsor, Family Medicine Resident, Community Memorial Hospital, Ventura, CA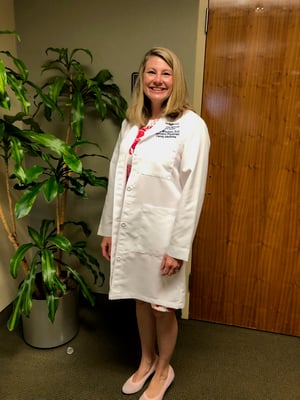 "I want to recognize my wife, Ellie Windsor, a family medicine resident at Community Memorial Hospital in Ventura for selfless dedication to our shared health. Ellie along with the other medical residents at CMH have not only been handling their normal responsibilities but have been working the hospital's COVID tent. These early morning and overnight shifts have kept healthcare access open for the community members who need it most, keeping everyone safer and healthier."
- Jeff Windsor, Software Engineering Manager, Westlake Village, CA
---
Priscilla Swan, Social Work Supervisor, Adult Inpatient Psychiatry, Brooklyn, NY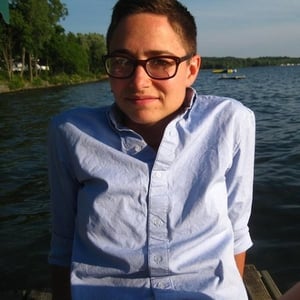 "My twin sister Priscilla is a Social Work Supervisor on an Adult Inpatient Psychiatry service at a city hospital in Brooklyn, NY. She recently tested positive for the virus but has since recovered and is now back at work where her team created space on the medical side of the hospital for the increased number of COVID patients in need of ICU beds. Her team is still treating adults struggling with symptoms of mental illness as well as adults who are COVID positive and in need of psychiatric treatment. Also, Priscilla and her colleagues have been redeployed to provide support to medical staff and patients navigating this unprecedented crisis. Like all front line and essential workers, Priscilla's job brings certain risks to her family. During a difficult ten days in March, Priscilla cared for her four-year-old at home and her wife, Rae, who contracted COVID and came down with more severe symptoms. Since recovering, Rae has donated blood to a study at Mount Sinai to explore antibody treatment options and Priscilla plans on doing the same. The daily risks and contributions Priscilla takes and makes are emblematic of the sacrifice of all front line and essential workers—I am so proud of her."
- Meg Swan, Client Development Manager, Westborough, MA
---
Brian Nehring, Lead Software Engineer, Seek Thermal, Santa Barbara, CA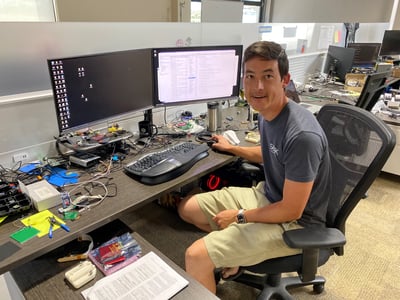 "My husband, Brian Nehring, works for a Santa Barbara company called Seek Thermal. He's a lead software engineer working on Seek Scan, a new fever detection camera that scans and flags for potential fever using infrared technology. With concerns around transmission of Covid-19, the work he and his colleagues are doing is critical—creating an accurate, automated, and non-contact method for detecting a fever. The hope is that Seek Scan will be used at building access points (lobby, entrance, etc.) to help businesses, institutions, and venues create safe environments for employees and customers. I'm so proud of the work that he and his company are doing—they rapidly pivoted from developing other infrared products to build this new system that is much more affordable and accessible compared to other options on the market today."
- Nancy Kim, Director of Data Science & Analytics, Santa Barbara, CA
---
Karen Ernst, Grocery Store Clerk, Chicago Area, IL
"I'd like to recognize my mother, Karen Ernst. She's 67 years old and has, along with several of her coworkers, continued voluntarily coming to work at the grocery store down the street from where I live (where she commutes from her home 30 miles away) since the start of the pandemic. At first, only hand sanitizer and gloves were provided, then plexiglass shields (as we've likely become all too familiar with), and eventually the mandated form-signing, masks, and temperature checks upon arrival for her shifts. She risks her own health daily so that all of us can continue to shop for life's essentials. I could not be prouder, but at the same time I don't think I could be more scared."
- Erik Ernst, Client Integration Engineer 1, Chicago, IL
---
Rahul Bhardhan, Pharmacy Shop Owner, Kolkata, India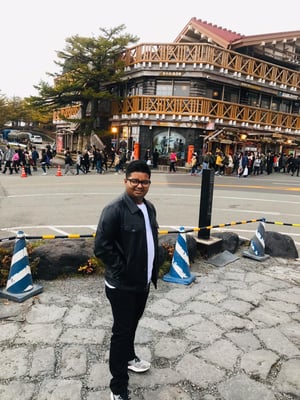 "My friend Rahul Bhardhan, (who I studied with in college and used to get into all the mischief) owns chemist shops and is taking responsibility in this pandemic to serve the entire Kolkata city by delivering medicine for senior citizens and chronic patients. Not wanting to risk the safety of his staff, he and his father take on all responsibilities from end to end—from managing all the various stores they own in the city, to timely delivery of medicine to patients, and they always aim to serve, even given limited resources. The entire city and I owe him sincere thanks for working for all the people in need during these tough times."
- Parneta Talwar, Client Services Associate Analyst, Bangalore, India
---
Rebecca Talia, Sixth Grade Teacher & Creator of From Our Classrooms to Our Nurses, Indialantic, FL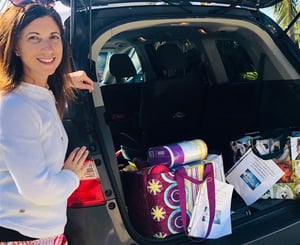 "Rebecca Talia, a great friend of mine and a sixth-grade teacher in Indialantic, FL, created an innovative new program to donate disinfectant wipes from classrooms to local hospitals. Each year, teachers request one canister of wipes per student in order to keep their classrooms clean. When schools closed, she realized the critical resource need and the opportunity to help hospitals. After contacting her principal, she got started by identifying all the excess wipe capacity in the school that were no longer needed. She was able to collect over 60 canisters of wipes at first, but she wanted to make this a larger initiative, so she created a website that could match schools with local hospitals to distribute disinfectant wipes across the community. She has now been able to increase the donation by 10X with the support of the entire school district! I'm so proud of her relentless drive, hard work, and most importantly, her philanthropic mindset."
- Kristen Levins, Director, Publisher Development, Westborough, MA
---
Rhandi LaChonce, Housing Retention Specialist, New Beginnings Counseling Center, Santa Barbara, CA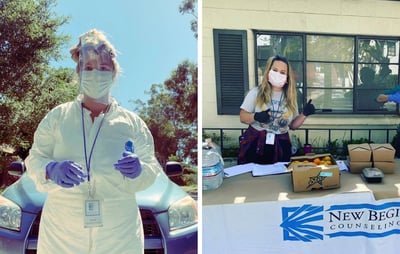 "My friend Rhandi LaChonce works at the New Beginnings Counseling Center in Santa Barbara, CA, a nonprofit mental health center that provides psychological counseling and supportive services to low-income families and individuals in the Santa Barbara community, including those experiencing homelessness. She coordinates food deliveries to about 45-60 people twice a week who been placed in housing and those that are living in vehicles. Right now, she's been working hard to collect and disseminate essential items to unsheltered clients and members of the SB community (we haven't been talking enough about those that are unable to stay safe at home because they don't have one)—things like packaged food, nutritious fresh fruits and veggies, PPE, toiletries, activity items to occupy free time like games and coloring books, and supplies that provide a way to wash hands without access to a restroom. Even before she worked for SBNCC, Rhandi is one of those people who goes above and beyond for her community—she raised money for a low-income family to help them buy a car during the California wildfires! Her energy constantly astounds me. I'm proud to know her!"
- Zoe Pedziwiatr, Content Marketing Manager, Santa Barbara, CA
---
Melissa Moreau, ICU Nurse, UMass Memorial Medical Center, Worcester, MA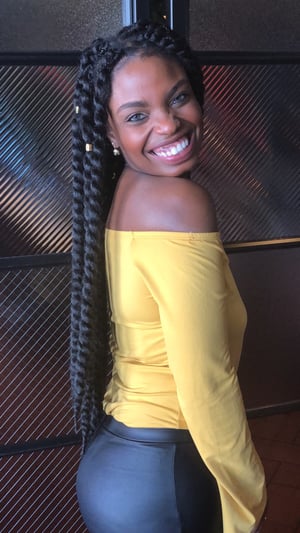 "Melissa is one of my oldest and closest friends and my roommate. We met taking ballet classes when we were about nine. When our parents discovered we lived close, we were quickly carpool buddies and performance partners in crime. A few years after college, we decided to move in together in a sweet three decker in Worcester (our hometown).
She's been at UMass Memorial Medical Center for some time; first as a transplant, then as an ICU nurse. She's always been someone who has deep empathy and love for the people she works with and her patients.
Melissa works nights, so for years, we've been two ships passing in the night most of the week. Watching her crack into a beer to celebrate five nights straight of work as I bundle out the door to the office always makes me laugh. But there were also some sobering nights where she knows she has to experience a loss with a patient and their family. I feel that heavy burden constantly in our apartment now.
Our mornings are pretty different. Melissa often works on a COVID positive ICU floor, working directly with these patients to save them. When she gets home, she strips as soon as she gets outside our apartment door and puts her clothing and jacket in our washer. Then sprays her keys and our doorknobs, with the limited disinfectant spray we have. Her hands and face are rubbed raw from the PPE and hand washing. I picked up some hand and face masks to help with her cracked skin to help. She's very quiet most days, which makes me sad because I know that means she's emotionally overwhelmed and/or in pain. She does have a great crew at work and supportive friends and family, to which I'm grateful. Our area is experiencing a surge of COVID cases and having a support system through this is paramount. Every night before she leaves for work, we exchange 'I love you's', which does make me happy.
I'm recognizing Melissa because she is a fierce fighter through this traumatic time. I know she wanted to be a nurse because she wanted to help people, to save people. She is continuing to go forward, and we are lucky to have her protecting and caring for patients. Love you Mel-Mel!"
- Gillian Murphy, Client Support Team Lead, Westborough, MA