Definition of Incrementality
Incrementality is a subset of the overall value that was measured. It focuses on the additional value the channel provides that would not have occurred without the channel present. Incrementality asks the question, "Did that set of marketing touch points influence customer actions (knowingly or unknowingly) to drive more value?" Incrementality for any marketing channel is about successfully influencing shopper behavior and meeting consumer needs such that you gain more value with the channel versus without it.
Incrementality is not attribution. Attribution is a transaction level analysis that allows you to model the impact of multiple marketing touch points for any given transaction. Incrementality, on the other hand, looks at the consumers/people who drove those transactions; it looks at the behavior of these people and how having a certain marketing channel in the mix impacts your business outcome. Incrementality is a measurement of behavior across groups and is independent of an attribution model. Understanding incrementality can help you create a better model for attribution.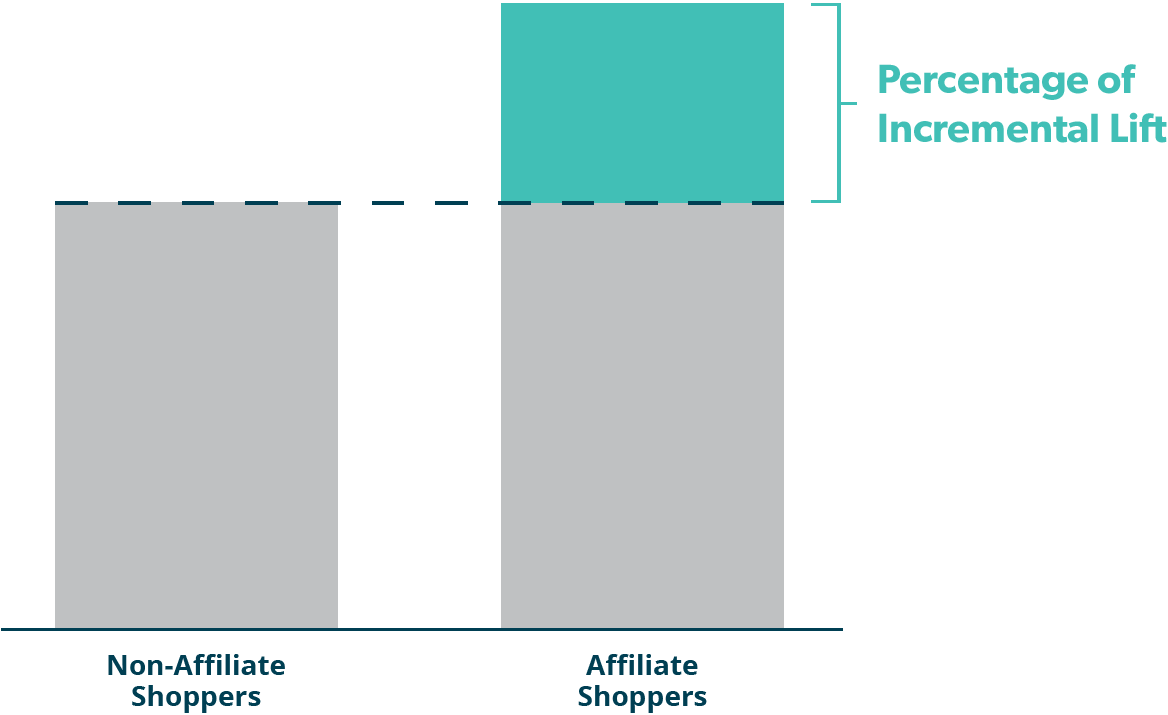 Definition of Methodology
This incrementality study used the widely accepted test and control methodology. The test group of users exhibits the behavior that is under study: in this case, affiliate clicks. The control group of users are similar to the test group, but the only difference is they did not click on any affiliate links during the testing period. By analyzing the differences in behavior between the test and control groups, the impact that affiliate clicks have on key performance metrics can be measured.
Data Origin
Brands included in this study are highly recognizable household brands, with a combined total revenue of approximately $31B.
Data Source
Retail client CRM customer files, transaction data, site visit data, and affiliate click data
Time Frame
September 2018
Total Population Size
20.2M (1.1M Affiliate Shoppers, 19.1M Non-Affiliate Shoppers)
Total Transaction Volume
5.5M Retail Transactions
Definition of Groups
Affiliate Shoppers (Test Group)
Visitors to an Advertiser's website who have clicked on any affiliate link at any point during September 2018 (1.1M Affiliate Shoppers)
The Affiliate Shopper group only looked at the users who clicked on an affiliate link. This study did not measure impressions or other non-click influence. Affiliate likely has greater influence than what is represented in the Affiliate Shopper group. (For example, impressions such as reading an article aren't accounted for here).
Non-Affiliate Shoppers (Control Group)
Visitors to the Advertisers' site who did not have an affiliate click during September 2018 (19.1M Non-Affiliate Shoppers)
All site visitors are assigned to the Non- Affiliate Shopper group UNTIL they generate an affiliate click. At that point, any affiliate click will move the individual into the Affiliate Shopper Group.
The Non-Affiliate Shopper group takes into consideration any visitor to the brand's site, regardless of any click/activity that lead to the user visiting the brand's site.
Study Controls
Brand Awareness
The Non-Affiliate Shopper group members had to at least visit the brand's site during September 2018. This controls for shoppers' brand awareness. It also controls for the fact that these shoppers are in market and already know about the brand.
Seasonality
Both groups were observed and measured during the exact same time frame.
Time to Conversion
Both groups were given the same amount of time with which to engage with the affiliate channel or brand, as well as to convert. The Affiliate Shopper group was measured up to 30 days from their affiliate click(s). Similarly, the Non-Affiliate Shopper group was measured up to 30 days from their site visit(s). This 30-day period allows both groups of shoppers an equal opportunity to convert and controls for potential differences in time to conversion.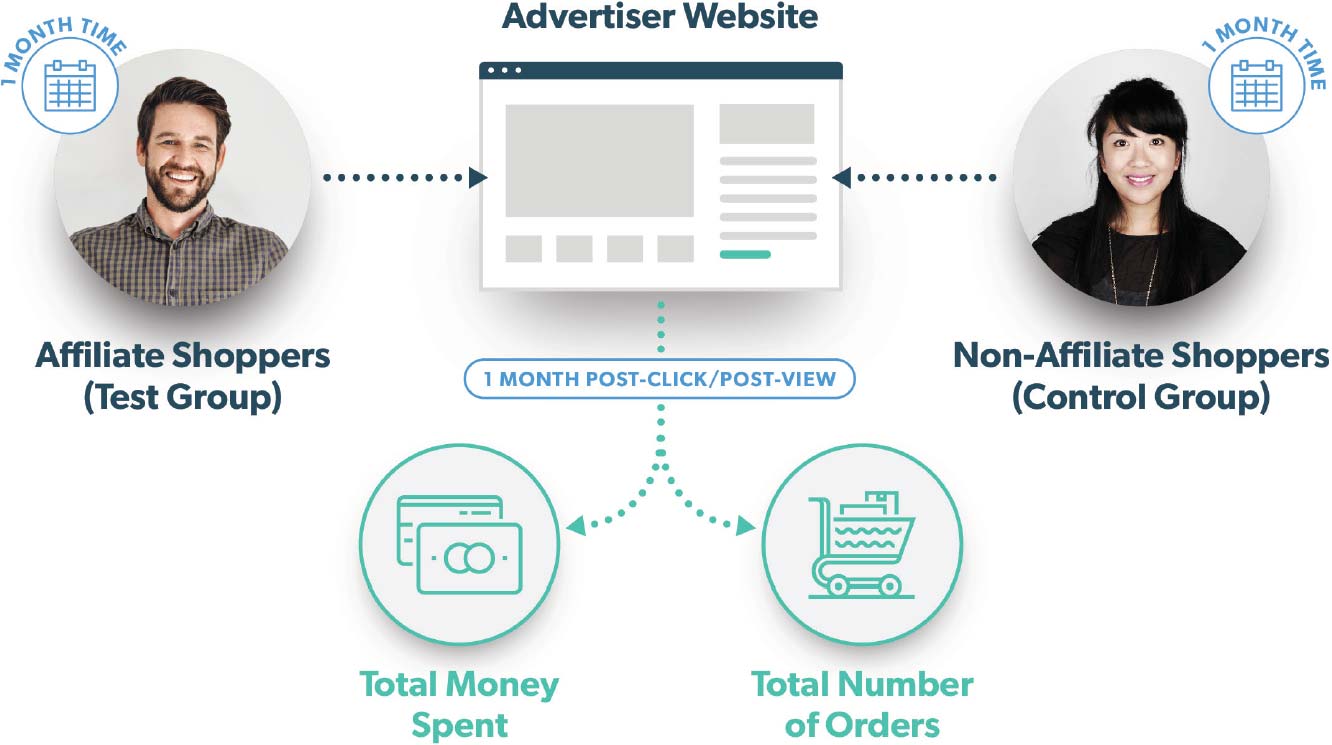 Metrics Used
Individuals
Deterministically and cross-device matched to unique and anonymous customer profiles. These profiles may be associated with multiple emails, devices, and cookies. This matching methodology eliminates double counting between user groups and allows us to accurately measure their shopping behavior.
Shopper
Individuals in either the Affiliate Shopper (Test) or Non-Affiliate Shopper (Control) group.
Customer
Shoppers who have made at least one purchase with the respective brand.
Shopper to Customer Conversion Rate
Total customers divided by the number of shoppers.
Average Order Value
Total revenue divided by total number of orders.
Orders per Customer
Total orders divided by total number of customers.
Revenue per Customer
Total revenue in one group divided by total number of customers in the same group.
Revenue per Shopper
Total sales revenue divided by the total number of shoppers.
New Customer
Brands define their custom new-to-file definition. If no custom definition was given, then CJ defines a new customer as someone who has not purchased from the brand in the past 2 years.
Return Customer
Brands custom define a return customer definition. If no custom definition is given, then CJ defines a return customer as someone who has purchased from the brand within the past 2 years.