With Google's recent announcement closing the Google Affiliate Network, we have been receiving an especially large outpouring of Publisher love. We believe this is due to the incredible amount of resources we dedicate every year to publisher development and optimization, creating the largest, most productive affiliate network in the industry.
In fact, according to the 2012 AffiliateBenchmarks Report survey of over 7,500 publishers, 74% of publishers chose CJ as one of their top 3 preferred networks.
Over the past few weeks we have received a truckload of great feedback from publishers on their experience working with CJ. We'd like to share just a few of the thoughts publishers wanted to highlight for advertisers who are considering a migration to CJ.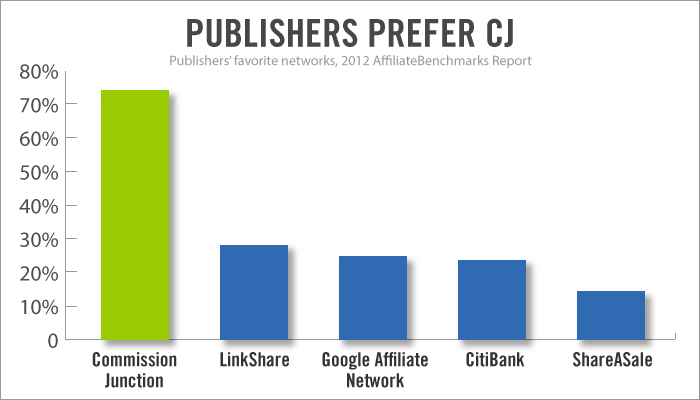 Straight From Our Publishers
CJ has been an integral part of the success of CitizenHawk. With their real-time reporting and tracking capabilities and their top-notch customer-oriented staff, it's a win-win environment for developing and maintaining long-standing relationships with our advertiser partners. CJ's proactive approach to advertiser/affiliate management, especially as it pertains to Network Quality initiatives, continues to be a key factor in driving success with our clients.

- Brody Stout, COO, CitizenHawk
Fluent has had the opportunity to work with CJ for the past few years and we've been more than impressed with their team's responsiveness and professionalism. They take a partner-centric approach, centered around a genuine desire to exceed expectation - a true rarity in this industry. CJ tends to go above and beyond when it comes to crafting custom solutions that leverage publishers strengths for the benefit of their advertisers. That 'out of the box' thinking and results-focused mentality truly separates CJ from other networks in the space.

- Matt Conlin, Co-founder and President, Fluent, Inc
CJ is the biggest and best affiliate network for a reason. They dedicate their resources into ensuring their team members are always there to help, whether you are an advertiser or a publisher. Any time I have a question, their account managers are quick to respond and are always available when I need them.

CJ also provides some of the most advanced tools to ensure that everyone can see exactly how well a campaign is doing. Reporting is simple and easy to manage, which makes it an extremely valuable asset to publishers and advertisers looking to get the most out of their programs. CJ is dedicated to having a top notch user experience, which is why I love working with them!

- Coupons Inc. com
We have worked with CJ for over 9 years. The staff is top notch and their account managers are some of the best in the business. They are knowledgeable and responsive. Having a good network partner is essential in the performance marketing space and as a long time player in the market, CJ fills that role nicely.

- Tony Pantano, CEO – Imwave, Inc.
Simply put, we would not be in business today if it weren't for CJ. We launched our website in September of 2011 and within a few weeks, we got a call from an Account Representative at CJ who was looking to see how they could help us grow. From that point forward, CJ has gone above and beyond. The best thing I can say about CJ is that we've always felt as though they were part of our team. They get excited about good opportunities and disappointed when things don't go as planned.

On a weekly basis, they've introduced us to new partners and they took us from driving zero sales in October of 2011 to becoming a CJ Performer in August of 2012 to winning CJ's New Publisher of the Year Award in September. Our Account Representative at CJ knows our space better than anybody and fully understands our model, our goals, and our strategy; we're incredibly fortunate that we can count on her to champion our cause even when we're not on the phone (or in the room) with her.

While we're very grateful for the work that our Account Rep and the rest of the CJ team has done on our behalf over the last 19 months, we also think it's pretty cool that we've very quickly come to think of so many of them as friends. They work hard, they produce results, and they really, really value their relationships.

- Joe Graceffa, Co-founder, Linfield Media
Prosperent has worked with CJ as our preferred network since 2009. The infrastructure, reporting, and datafeeds are top notch. This is especially important for a company like ours that works with thousands of merchants across all of the major networks. We can always rely on the team at CJ to resolve any issues quickly and with great personal care. With over 8,000 publishers and nearly 2 billion visits to our tools each month, customer service, speed, and data quality are great concerns of ours. CJ delivers on all fronts.

- Brian Lovett, CEO, Prosperent.com
CJ is an important and trusted partner for Tapjoy. The CJ team brings a true business development mindset to the table. They represent our interests and those of our advertiser partners consistently and reliably. We've been able to grow our business with them significantly over the past year and look forward to doing more down the road. We work with most networks, however we have not seen the same growth elsewhere. Whether you look at if from a tracking, reporting or financial point of view we're far more integrated and aligned with CJ than any other network. That combined with the team's knowledge and expertise make it a great partnership.

- Brett Nicholson, Director, Sales, Tapjoy
With all the various networks we have worked with over the past 10 years, CJ is by far our preferred network of choice. In comparing CJ with all the other networks we currently work with, CJ is the leader in service, technology, reporting, communication, and account management to us as a publishers. I feel they offer the most diversified portfolio of advertisers and continually work with us as a publisher to make us aware of these advertisers to promote their products and services across our various web properties.

Relationship building is key in our industry. CJ account managers along with their upper management are very proactive in establishing strong communication between us, CJ, and advertisers, building a strong partnership between all our organizations. CJ is the only network I recommend to advertisers and publishers alike.

- Mike Eltzroth, Vice President Business Development, TechMediaNetwork
As a publisher (CJ Performer), we have certainly come to value CJ's tracking and reporting platform but more importantly... we've grown to love the CJ Human Factor. This aspect of the CJ Network has been integral to the growth of our network revenue as well as that of advertisers with whom we have worked or simply known through years in the industry.

In addition to top-notch affiliate tracking and reporting technology, advertisers also need personal, attentive, and client-centric service from their affiliate network. If an advertiser wants to grow, optimize, or diversify their affiliate efforts, it's important to have a network (and a network team) that proactively recruits novel publishers, suggests new affiliate channel strategies, and lends a personal touch to the merchant's affiliate marketing channel. CJ is this kind of network and I have no doubt that advertisers who migrate to CJ from GAN will be very pleasantly surprised to get a look at how network management can and should be conducted - with excellence, care, quality, and a keen eye for growth opportunities.

- Max Loewenthal, Director of Business Development, UpSellit