With Singles' Day revenue climbing exponentially each year, brands are wondering how—if at all—they should invest in this growing seasonal shopping day.
Key Takeaways
Singles' Day has become a huge shopping event, and there are plenty of opportunities for Advertisers to tap into the event via cross-border shoppers.
Having localized content, Chinese payment methods, and direct shipping are all very helpful in driving conversion but aren't mandatory (or a guarantee of success).
Chinese shoppers are likely to sit out and wait for Black Friday and Cyber Monday if the Singles' Day offer isn't strong enough.
Singles' Day (November 11), the Chinese shopping holiday where single men and women are encouraged to treat themselves, has been on the minds of many in affiliate marketing over the last several years—and for good reason. Total sales on Singles' Day in China has more than tripled in the last five years, increasing from $9.3 billion to $30.8 billion in 2018—an amazing success rarely seen in more mature markets like the US and EU.
As Singles' Day continues to grow in size and prominence, many international brands and retailers have identified the holiday as an avenue for growth and a way to engage more directly with Chinese shoppers. However, navigating the Chinese market can be challenging and moving precious budget away from more traditional performers like Black Friday and Cyber Monday can be risky. Is Singles' Day worth investing in? In this article, we'll leverage data and feedback from Publishers and Advertisers to better equip you to make that decision.
Can you have a successful Singles' Day without a presence in China?
Cross-border shopping is a large and growing segment of the global retail market—cross-border B2C spending is expected to reach almost $1 trillion by 2020. China makes up a big chunk of this growing market: in 2017 cross-border ecommerce accounted for 10.2 percent of total e-commerce consumers, compared to just 1.6 percent in 2014. New Chinese ecommerce regulations introduced at the beginning of 2019 also show the government's support and investment in the growth of cross-border ecommerce.
In a review of CJ Network data for Singles' Day 2018, six of the top ten performing Advertisers don't have a physical presence in China, demonstrating that it's possible to harness the power of cross-border for Singles' Day. However, nearly all of these Advertisers have made a long-term concerted effort to court Chinese cross-border shoppers. This includes localized Chinese language sites, support of Chinese payment methods, and in some cases, direct shipping to China. Having this infrastructure already in place allowed them to better target Singles' Day shoppers.
While having these pieces in place is has proven helpful, they're not mandatory. Advertisers can tap into cross-border without having a localized site. For example, we spoke with a popular American beauty brand who has seen enormous success with Chinese shoppers in recent years despite not having a Chinese language site or Chinese payment methods:
"We noticed that our products were performing really well with a Publisher that has a primarily Chinese audience. One of our goals was diversifying our audience, so we started working with a few Chinese cross-border affiliates and they have driven significant volume for us."
On Singles' Day:
"We first tried a Singles' Day event in 2017 but didn't have much success. In 2018, we worked with our CJ account managers to set up a great offer and set up strong placement with our Chinese Publishers. The results were impressive, and we plan on investing in Singles' Day again this year."
What promotions work well for Singles' Day?
Singles' Day can be thought of as "Chinese Black Friday." Many shoppers start preparing for the holiday weeks in advance, and merchants compete for attention with their best offers of the year. Cross-border shoppers carry this expectation with them when they shop internationally as well. Per an iResearch Consulting Group survey conducted in March 2018, "price discount" is right behind "product authenticity" as the most important factor cross-border shoppers consider when they make a purchase.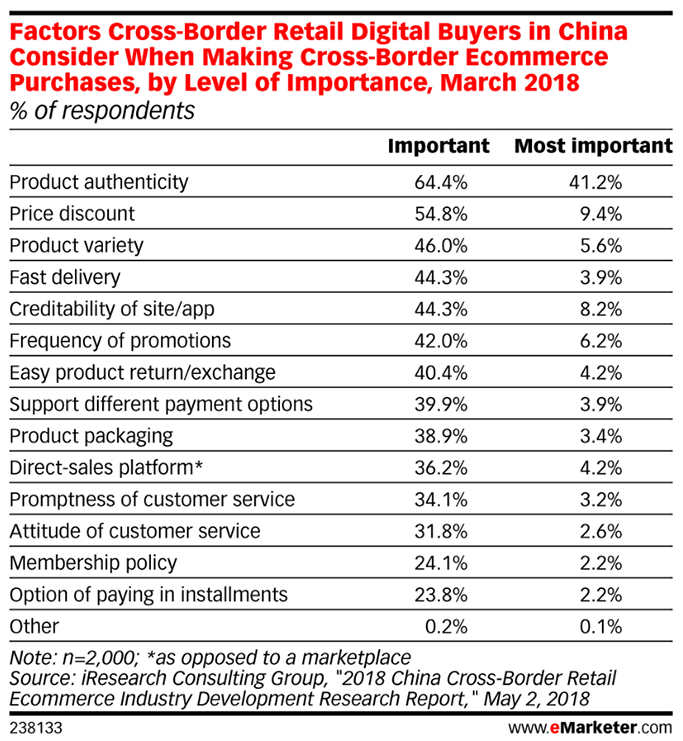 The importance of pricing, paired with the fact that Black Friday is only two weeks away from Singles' Day, means that Singles' Day offers simply will not perform unless they are on par with promotions during Black Friday and Cyber Monday. Cross-border shoppers are a savvy and patient bunch—a 20% off offer will not entice them if they know they may be able to wait two weeks and get a higher discount. If you're unable to match your strongest discount, a great option is to offer a gift with purchase. These offers are incredibly popular, as cross-border shoppers like to gift deluxe samples or other free items to friends and family. Go beyond simply labeling an offer as "Singles' Day" by making sure offers are strong enough and tailored to the Chinese audience.
Do you have more questions about Singles' Day?
Looking for more insight into the Chinese consumer? Check out this great two-part interview with cross-border Publisher, BorderX Lab. In addition, please reach out to your account manager for more insight, or speak to CJ's in-house China expert, Alex Hart.